The "Etnografia" journal has entered Scopus!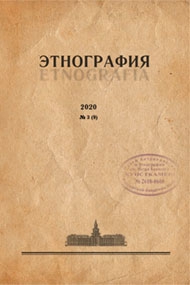 We are glad to share the good news: the "Etnografia" journal, issued by the publishing house of the Museum of Anthropology and Ethnography of the Russian Academy of Sciences, has been accepted into the international database Scopus - the largest database that includes annotations and citation information of the peer-reviewed scientific literature and has built-in tools for tracking, analyzing and visualizing data. The database contains more than 23,000 publications on the natural, social and humanitarian sciences, technology, medical science and art.
The "Etnografia" journal has been issued by the MAE RAS (Kunstkamera) publishing house since 2018. The publication aims to issue works on the ethnography of the peoples of the world, methods and results of studies of ethnicity, identity, activity, mobility, migration, mythology, religion, ethnocultural heritage and everything that characterizes ethnic communities and ethnocultural potential. The range of interests and tasks of the journal goes beyond the subject field of ethnography, ethnology and anthropology, covering the related thematic fields of archeology, sociology, history, psychology, linguistics, museology, philosophy of science. Topics traditional for ethnography coexist with the latest developments in visuality, mobility, digitalization, and cyber-ethnography.
The editorial board of the journal consists of 17 prominent scientists, and the quality of materials published on the pages of "Etnografia" is highly appreciated by the international scientific community. Congratulations to the editorial staff of the journal and the MAE staff on their well-deserved success!