The publishing house of the MAE RAS has introduced a new issue of the journal "Etnografia"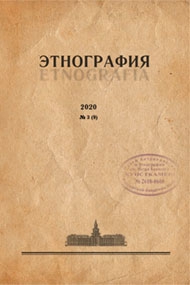 The new issue of the "Etnografia" journal (No. 3 (9) for 2020) is fully devoted to the issues of cyber-ethnography. This is one of the most dynamically developing areas in the spectre of scientific activities of the Museum of Anthropology and Ethnography. The issue opens with an article by the director of the MAE RAS Andrei V. Golovnev "Cyberspeed" which examines the phenomenon of the global cyberrevolution, when the cyberworld becomes almost a greater reality than reality itself, and the high speed of information and reaction exchange in the virtual world is capable of provoking a social avalanche. How has the pandemic affected these processes? And why is cyberspeed causing fear? Andrei V. Golovnev uses his concept of anthropology of movement in this article to study the processes taking place in virtual reality.
Other published articles have examined various aspects of the online manifestations of ethnicity: hashtags and ethnicity, casual Russian nationalism online and offline, religiosity online (using the example of Russian Germans), presenting national cultures on social networks (using the example of the Kola Sami), constructing a national identity on the pages of Internet websites (for example, the Welsh).
You can read the full texts of the published articles or download them following the link:
http://etnografia.kunstkamera.ru/archive/2020_3